The Bronx, A Digital Divide, and Xenophobia
How are students handling online education? How did the Bronx become the hotspot within a hotspot? Plus, Rihanna donates millions for domestic violence programs as incidents are on the rise + more...
Speak Patrice Presents: Coronavirus News for Black Folks is an independent, ad-free newsletter that aims to empower our community by sharing coronavirus (COVID-19) news and stories as they relate to the Black Diaspora.

Please consider (1) clicking that itty bitty ❤️at the top of this email next to my name to "like" us, (2) subscribing, and (3) supporting this newsletter by sharing it with friends and family.
---
Can you please take a quick reader survey?
Here's a quick *anonymous* survey to help make this newsletter informative and valuable. Thank you!
---
4 MUST-READ STORIES:
— by Evan Simon and Stephanie Ebbs, ABC News
The heavily minority borough has the highest per-case fatality rate in NYC.
(Chart: Ann Choi THE CITY Source: NYC Department of Health and Mental Hygiene)
"As the coronavirus crisis unfolds, people across the globe have become familiar with images of an empty Times Square or the Navy hospital ship docked along Manhattan's iconic shoreline. Far less attention, however, has been paid to the Bronx, New York's historically disenfranchised and majority African American and Hispanic outer borough, now suffering under the highest case fatality rate for the coronavirus in the metropolis. Community leaders are calling on the city, state and federal officials to do more to help the besieged and, in their minds, forgotten borough." [link]
MAIN TAKEAWAYS:
DEATHS PER CASE — "While the borough of Queens leads the overall death toll in New York City with over 1,600 killed by the virus so far, the Bronx -- which has a smaller population and lower case total -- is seeing dramatically more deaths per case, with 1,185 killed as of April 10."
MOST VULNERABLE — "Six percent of Bronx residents who contracted COVID-19 died as of April 7, making them nearly 1 1/2 times more likely to succumb to the virus than the rest of the city."

FOOD INSECURE— "The Bronx is New York City's hungriest borough, with 1 in 4 residents experiencing food insecurity in 2018." (Click for NYC food assistance resources)

ASTHMA ALLEY — "The South Bronx, often described as 'Asthma Alley,' is surrounded by four highways, several waste facilities and a steady stream of heavy truck traffic servicing a nearby Fresh Direct warehouse, the printing press of The Wall Street Journal and other diesel-intensive industries that fill the streets with emissions."

AIR POLLUTION — "The Bronx contains seven of the city's top-10 neighborhoods for asthma rates…The Morrissiana/Highbridge neighborhood, home to the city's second-highest asthma rate, is now among the city zip codes worst hit by the coronavirus."
RECOMMENDED STORIES:
— by Dana Goldstein, Adam Popescu and Nikole Hannah-Jones, The New York Times
Teachers at some schools across the country report that fewer than half of their students are participating in online learning.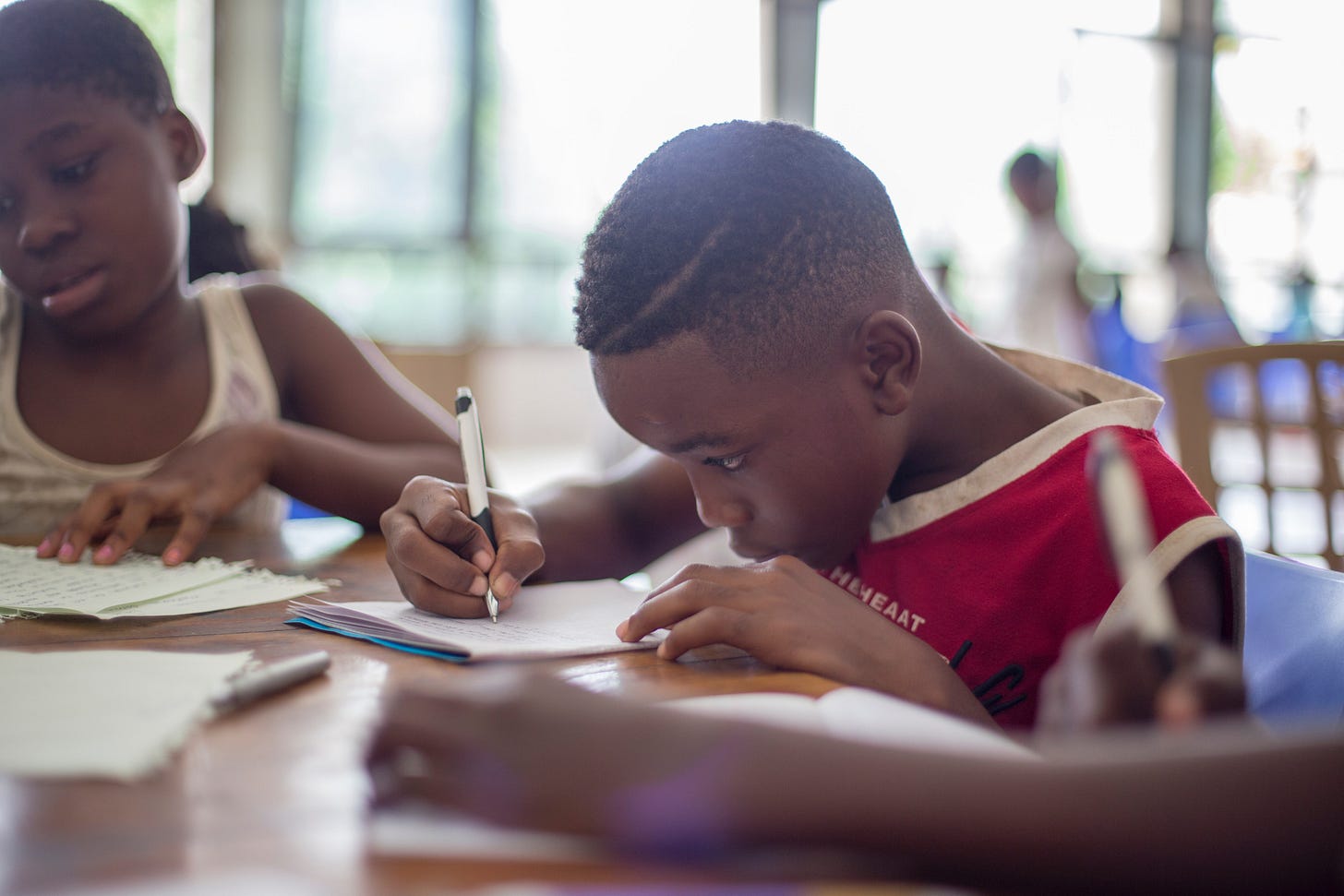 (Photo by Santi Vedrí on Unsplash)
"The absence rate appears particularly high in schools with many low-income students, whose access to home computers and internet connections can be spotty. Some teachers report that fewer than half of their students are regularly participating.

The trend is leading to widespread concern among educators, with talk of a potential need for summer sessions, an early start in the fall, or perhaps having some or even all students repeat a grade once Americans are able to return to classrooms." [link]
MAIN TAKEAWAYS:
NATIONWIDE CLOSURES — "During the coronavirus pandemic, every state in the country has ordered or recommended closing schools, in many cases through the end of the academic year."

A DEEPER DIVIDE — "Cratering attendance in some districts contrasts with reports from several selective or affluent schools where close to 100 percent of students are participating in online learning. The dramatic split promises to further deepen the typical academic achievement gaps between poor, middle-class and wealthy students."

CHILD POVERTY — "The city of Cleveland has one of the nation's highest child-poverty rates. Despite the economic slowdown, many parents continue to work full-time outside their homes in fields like sanitation, health and food service, meaning that many students do not have an adult at home to supervise their learning. Mr. Gordon estimated that 30 to 40 percent of the district's students also do not have reliable access to the internet at home."

HOME DUTIES — "A lot of our students have siblings they have to take care of, and their parents are still going out and working. It makes it very difficult to log on at the same time as feeding breakfast to their siblings or helping with chores."
RECOMMENDED STORIES:
— by Jenni Marsh, Shawn Deng and Nectar Gan, CNN
"CNN interviewed more than two dozen Africans living in Guangzhou many of whom told of the same experiences: being left without a home, being subject to random testing for Covid-19, and being quarantined for 14 days in their homes, despite having no symptoms or contact with known patients." [link]
MAIN TAKEAWAYS:
FIRST-HAND ACCOUNTS — "In recent days Africans in Guangzhou have reported being evicted from their apartments by their landlords, being tested for coronavirus several times without being given results, and being shunned and discriminated against in public."

ON SOCIAL MEDIA — "We've seen a number of reports from social media from members of the African community in Guangzhou making complaints of mistreatment, arrests, eviction and being denied access to restaurants and hotels, and some students are even claiming to be living on the streets and being denied food."

LEADERS SPEAK OUT — "The African ambassadors' letter sent to China's top diplomat, Wang Yi, highlighted a number of reported incidents, including that Africans were being ejected from hotels in the middle of the night, the seizure of passports, and threats of visa revocation, arrest or deportation."

FEARED RECIPROCATION — "There is also a fear among African governments of backlash against Chinese workers working on the African continent because of what is happening in Guangzhou and other parts of China as well."
RECOMMENDED STORIES:
— by Francis X. Donnelly, The Detroit News
Covid-19 affected every facet of a grand blanc woman's grief as she deals with the virus-related deaths of her husband and only child.
In three days last week, Brown lost her husband and son, Freddie Lee Brown Jr. and Freddie Lee Brown III, to the novel coronavirus.

"There's not even a word created to describe my pain. It's unimaginable," she said.

The younger Freddie — her "Boopie," her "Sonny Redd" — was her only child, so Brown's family is all gone now. If the two losses weren't excruciating enough, COVID-19 comes with other tools of torture. [link]
RECOMMENDED STORIES:
---
📰MORE STORIES:
— by Dr. Fredrick Echols, The St. Louis American
'We must all work together like never before,' urged St. Louis health director
"At the City of St. Louis Health Department, we have one job: protecting the physical and mental wellbeing of our residents. Part of this is ensuring as many residents as possible have access to testing, which is a key component in tracking and slowing the spread of the disease. Obviously, for many of us in the black community, this access is more easily said than done."
— by Joe Anuta, POLITICO New York
"She said 10 residents have died in their apartments at Van Dyke. In one case, the bodies of a mother and son were discovered in their unit only after the smell prompted neighbors to call city officials. Eventually, the National Guard came to remove the bodies, and then cleaning crews passed through the home. But the odor of death lingered."
— by Cecilia Reyes, Nausheen Husain, Christy Gutowski, Stacy St. Clair, and Gregory Pratt, Chicago Tribune
Black Chicagoans are dying from the coronavirus at a rate higher than any other racial demographic, public records show.
"Even before the pandemic, these chronic conditions attributed to a life-expectancy gap in the city. On average, white Chicagoans live nine years longer than black residents, with half of the disparity due to chronic illnesses and smoking rates in black communities, public health officials said."
— by Yun Choi, 6abc
"The 6abc Data Journalism Team also found white and affluent zip codes in Philadelphia had higher testing rates than their less white, poorer counterparts. The zip codes with higher testing rates had lower positive test rates."
RECOMMENDED — "Philadelphia's Black Communities Disproportionately Hit By City's Coronavirus Pandemic," CBS News

"Socioeconomic barriers in some Philadelphia neighborhoods make it difficult to spread awareness of coronavirus precautions. Roughly half the people in one North Philadelphia area have no internet access, and most of them live below the poverty level, forcing city leaders to rely on other methods to make sure every community is as safe as possible."
— by Tonya Pendleton, the Grio
They've asked Congress for $89 billion to stay afloat, saying the agency will run out of money by the end of September if they don't get a cash infusion.
"The postal service is one of the country's biggest employers. As of 2018, according to Data USA, the agency employs over 330,000 employees with an average salary of $50,000. While 67% of its employees are white, 21% of the agency's employees are Black."
RECOMMENDED — "Defend the Post Office, Defend Black Workers," by Paul Prescod, Jacobin, July 2019

"For the average black worker, the postal service represents a stable, decent-paying career that is hard to find elsewhere."

And on Twitter, folks have been buying stamps featuring the renowned late journalist Gwen Ifill and tweeting their support of the USPS, aiming to #SaveThePostOffice.
— BET News
Ennaid Therapeutics is seeking FDA approval for drug that could help the afflicted.
"Darnisha Harrison, founder and CEO of Ennaid Therapeutics, one of the first African American women to start a major drug company, announced her company filed a patent when scientists working there created a therapeutic called ENU200 that could treat as much as 80 percent of asymptomatic, mild to moderate COVID-19 infections."
— by Miriam Jordan and Caitlin Dickerson, The New York Times
Some employees are coming in sick, and one woman died after being ordered back to work. "Our work conditions are out of control," a longtime Tyson employee said.
At some plants, workers have staged walkouts over concerns that they are not being properly protected. But an untold number remain on the job, most of them African-Americans, Latinos and immigrants. The Trump administration has urged food-supply workers to step up to meet growing demand.
—by Kay Recede, FOX40
"As she continues to share her daughter's life, Hunt reminds parents to have a true heart-to-heart with their kids and help them with their emotions during this pandemic, even if they are smiling and dancing.

'Sometimes we may need to stop and worry about the kids that we don't think we need to worry about,' Hunt said."
GOFUNDME — A GoFundMe campaign was recently launched on behalf of Jo'Vianni "Jo" Smith's mother Danielle Hunt, "as a way to help alleviate the financial strain and assistance in covering the memorial arrangements" and also launch a scholarship.
---
😊Feel Good News:
— ABC13
"I want our police officers and bus drivers to know that we appreciate their service," said the Houston rapper.
— by Chris Gardner, The Hollywood Reporter
"The funding, announced today by a rep for Rihanna's foundation, will be directed toward 10 weeks of expenses for shelter, meals and counseling for individuals and children suffering from domestic violence at a time when shelters are full and incidents are reportedly on the rise."
---
NEED HELP OR MORE INFO? HERE ARE SOME RESOURCES:
---
**A special thank you to Danyel Smith, Darian Symoné Harvin, and the rest of the good folks at HRDCVR for featuring this newsletter in their newsletter HRDlist! I recommend subscribing to HRDlist if you love a carefully curated list of all things about (and for) the culture (I mean, you clearly do, hehe!)
On that note, thank YOU for reading and sharing "SpeakPatrice Presents: Coronavirus News for Black Folks."
Stay Black, stay safe, and take care. We'll get through this together ✊🏿💗— Patrice