Black Students, Faculty Criticize Universities Reopening & Vaccine Trials Are Still Very White
Plus, barbers join COVID-19 battle, the pandemic rivals Hurricane Katrina in Louisiana, dermatology has a problem with dark skin, research explores how virus impacts Black women's hearts and more.
Speak Patrice Presents: Coronavirus News for Black Folks is an independent newsletter that aims to empower our community by sharing coronavirus (COVID-19) news and stories as they relate to the Black Diaspora. We have 1,965 subscribers as of August 31, 2020. Please consider (1) clicking that itty bitty ❤️ at the top of this email next to my name to "like" us, (2) subscribing, and (3) supporting this newsletter by sharing it with your friends and family.
---
A quick, important survey and more on Black educators…
Hi all. Patrice, here, founder of the newsletter. Two small things:
1) Can you please provide feedback on the newsletter in a quick survey? I'm working on a longform magazine feature (!) about this newsletter and larger topics and would like to know your thoughts and criticisms. The survey will also ask a few questions about you so I can get a better sense of our readership and what a feasible paid subscription model might look like (I've yet to receive —or ask for— any monetary support for this newsletter, mostly due to nerves.)
2) Thank you to everyone who responded to our call for Black educators for an upcoming story! We received several responses and will be sharing those stories with you soon. But now we're seeking Black educators who aren't working virtually, but in-person. If you know someone please have them fill out the form below:
---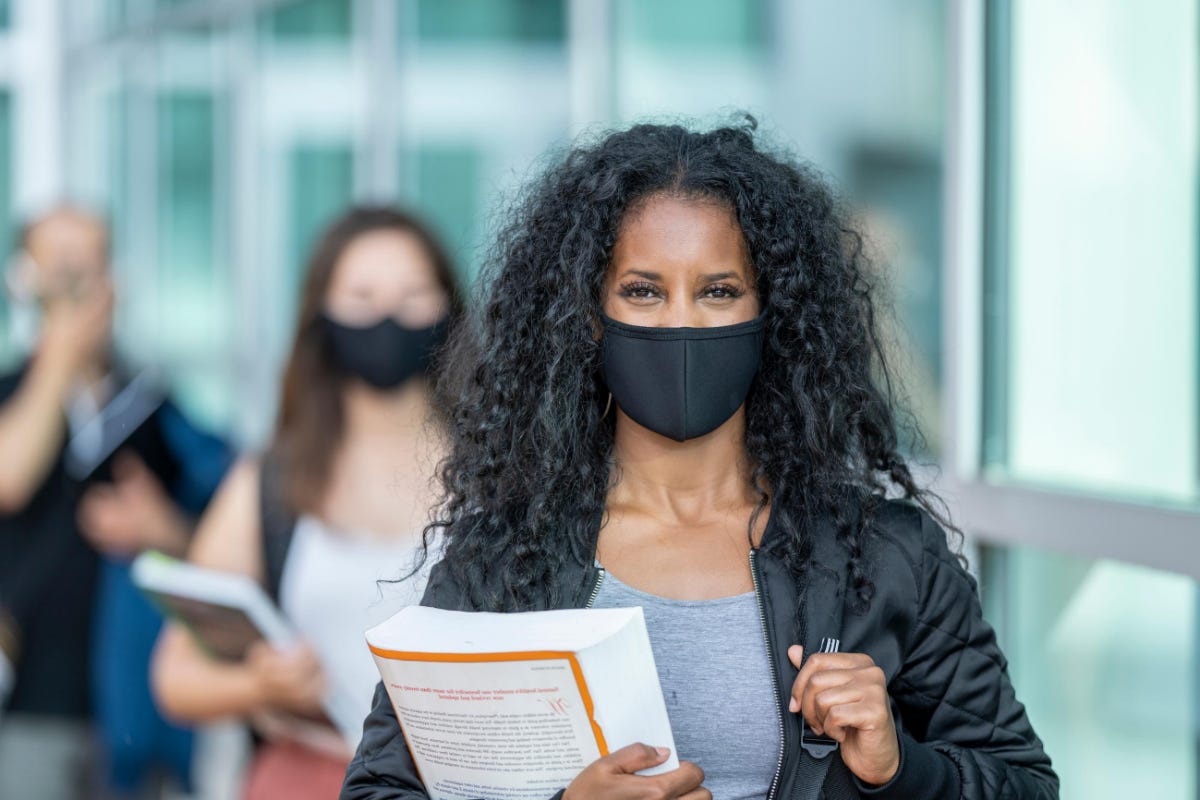 Photo via Canva.com
📍 MUST READ U.S. NEWS
Large U.S. covid-19 vaccine trials are halfway enrolled, but lag on participant diversity (WaPo has a paywall, so here's a free version of the article.)
"Creating vaccine trials that, at minimum, mirror the racial and ethnic breakdown of the American population, which is about one-third total Black, Hispanic and Native American, has been a major focus — a necessity to make sure any vaccine works for everyone and is broadly accepted. Current enrollment numbers lag even that target.
And, in recent weeks, debate in scientific circles focused on how trials for a coronavirus vaccine need to go beyond simply reflecting the composition of the nation's population. Instead, many scientists argue, enrollment efforts should reflect the disproportionate burden of disease, hospitalizations and deaths borne by Black, Hispanic and Native American communities."
RELATED: Coronavirus vaccine researchers are trying to recruit people of color for tests. It's not easy.
Exclusive: Nearly a fifth of enrollees in Pfizer, BioNTech COVID-19 vaccine study are Black or Latino
Moderna increases minority numbers in its vaccine trial, but still not meeting Fauci's goal
—
How the striking lack of diverse leadership at UNC is exacerbating its covid-19 crisis (I couldn't find a non-paywall version of this WaPo op-ed.)
"The fast-developing public health crisis in the UNC system made national news, and the editorial board of the Daily Tar Heel, UNC's student newspaper, headlined with an expletive to describe the debacle. This whole crisis could have been avoided, however, had university officials paid more attention to the concerns of students, faculty, and staff of color and their allies…
During many of the virtual meetings held throughout the summer about UNC-Chapel Hill's reopening plans, it was clear students, faculty, and administrators of color had also been left out of the decision-making process and did not have a seat at the table."
OPINION: The safety of Black and Brown students at IU is threatened
—
HBCUs across NC have prepped for the fall semester. Is COVID-19 showing up for class?
"After the pandemic hit and forced UNC to clear its campus in March, Davis assembled a cross-discipline team of colleagues from five other universities to study the educational effects to students of the complete disruption of their school year. The team is especially interested in first-generation college students, who tend to be minorities and to come from less affluent backgrounds than their white classmates...
Among the early findings, Davis said, is that most of those students surveyed who had jobs before the pandemic lost them after COVID-19 hit. At UNC, more than a fourth said that while living at their permanent address, they would be largely responsible for the care of someone younger than they. Almost a third of those polled at UNC said that at home, they wouldn't have adequate study space, Davis said. And some were worried that if they left UNC and went home, they would risk infecting a vulnerable person in their household."
—
College football means big money. Black athletes stand at the intersection of risk and profit.
"At 46 percent, Black athletes make up the largest demographic in the Power Five conferences of the Football Bowl Subdivision (the top level of college football), which had nearly 8,000 participants last season. Across the conferences outside of the Power 5, that figure reached 52 percent.
When asked what effect that may have on Black athletes' returning to play, the SEC said it is following the advice of its own medical task force. 'Our health experts have guided us through each stage of preparation for the safe return of activity and, together with the medical staffs embedded within our athletics programs, we continue to monitor developments around the virus and evolve our plan to meet the health needs of our student-athletes…"
—
Dermatology Has a Problem With Skin Color
"In the spring, teenagers started showing up at doctors' offices in droves with angry red and purple blisters on their fingers and toes. The latest unexpected feature of the coronavirus infection fascinated the public, and suddenly photographs of so-called Covid toes were everywhere on social media.
But almost all of the images depicted glossy pink lesions on white skin. Though people of color have been affected disproportionately by the pandemic, pictures of Covid toes on dark skin were curiously hard to find. The problem isn't unique to Covid toes or to social media. Dermatology, the medical specialty devoted to treating diseases of the skin, has a problem with brown and black skin."
—
Researchers explore how COVID-19 affects heart health in Black women
"Nearly six months into the COVID-19 pandemic, two things have become clear: The virus profoundly impacts people with heart disease and disproportionately impacts Black people. But the many manifestations of these disparities remains unclear, particularly for one group regularly left out of medical research…
And for African American women especially, the risks for heart disease are high. Four out of 5 Black women are considered overweight or have obesity – the highest rate of any group in the country, according to the U.S. Office of Minority Health, and they are 60% more likely to have high blood pressure than their white counterparts. Those risks didn't happen in a vacuum, experts say. Numerous factors place greater stress on African American women that can affect their health."
—
Black Workers Are More Likely to Be Unemployed but Less Likely to Get Unemployment Benefits
"Some of the continuing disparity is explained by geography, according to Michele Evermore, a senior policy analyst with the National Employment Law Project. Many states have made it more difficult to access benefits in recent years. In the 1950s, an average of 50% of jobless people were able to regularly access benefits; by the end of 2019, that average had fallen to 28% of workers. The states that have made the deepest cuts to their unemployment programs are mostly in the South and have a higher share of Black residents. In states such as Florida and North Carolina, fewer than 12% of jobless individuals received benefits last year."
—
1 in 3 Black Americans knows someone who died of Covid-19. These stories capture the toll taken by the disease.
"Every time you look up, there is another RIP post, or a friend seeking prayers for their loved one who is battling this cruel virus," said Desha Hargrove of Detroit, who lost her husband to Covid-19 inMarch. "I am simply devastated at how this virus has mainly impacted our communities."
We asked three Black people who lost loved ones to share what it's like to experience multiple deaths, sometimes within families, neighborhoods, or larger communities — and what it's like to cope, often from a distance."
—
Housing Advocates Say Eviction Waves Will Spread COVID-19
"As people lose their homes, they may have to stay with friends or relatives until they can find another place of their own. 'It will increase the number of interactions with different people that is not usually in your same household,' Ross says…
'This deadly virus that is killing people disproportionately in black and brown communities at alarming rates than any other race, and disproportionately black and brown people are the ones being evicted at the highest rate in Indiana…"
—
Katrina to COVID: New Orleans' Black community pounded again
After Katrina, Duplessis' husband, Barrett, was back at work as a Sheraton Hotel maintenance mechanic within weeks. Now, he's been out of work for nearly six months. They visit food banks and use disability checks and retirement saving to get by. She fell ill with the virus in March, she said, was hospitalized for seven days. The list of people she knows who've died of COVID-19 is growing — a sister-in-law, two close friends.
'Every night I go to sleep, I say, 'Is it going to ever be the same?'' Duplessis said. 'We don't know when this is going to be over with.'"
RELATED: In One Louisiana City, a Police Shooting, a Pandemic and a Hurricane
---
🇺🇸 NATIONAL NEWS
'Racial Inequality May Be As Deadly As COVID-19,' Analysis Finds
"Even during the COVID-19 pandemic, mortality rates and life expectancy are far better for white Americans than they are for Black people during normal, non-pandemic years, according to an analysis published this week in the Proceedings of the National Academy of Sciences.
The analysis, which looked at U.S. mortality statistics back to 1900, finds an additional 1 million white Americans would have to die this year in order for their life expectancy to fall to the best-ever levels recorded for Black Americans — back in 2014. That year, the average life expectancy for African Americans was 75.3 years — similar to the average life expectancy for white Americans back in 1989, says study author Elizabeth Wrigley-Field. 'It's as though Blacks have just missed out on the last three decades of [life expectancy] progress…"
—
'Why should we trust you?' Black Americans, hardest hit by COVID-19, are the most skeptical of potential vaccines
"'I'm not an anti-vaxxer. It's just a matter of common sense, given everything we know, … How do you say, on the one hand for months, that 'COVID-19 is hoax, it's just the flu, don't worry about it, it will go away,' and all kinds of stuff, and then turn around and say, 'Take these vaccines that we're providing to you for free?' What? Are you kidding me?'"
—
Covid-19 and Climate Change Are Killing Black Women (OP-ED)
"Even though women of color bear the heaviest burdens of climate disasters—health complications being the most recognizable—they aregrossly underrepresented in the climate movement. Through the lived experiences of Black and Brown women, there are local and national solutions waiting to be revealed. But when will the voices that need to be heard the most stop being overshadowed and cast aside due to bias and appropriation?
Climate change and Covid-19 are killing the very people we need to solve global problems. If we would elevate the voices of women of color—beyond the surface actions of sharing inspiring quotes and slick images on Instagram—we may have more comprehensive climate solutions on a global scale."
—
Philly's Black-owned business crisis: Walloped by the pandemic and closing at faster rates
"When Jimmy Mills was seeking financing to open The Spicy Belly in 2015, he and his brother were rejected by nine banks — only receiving funding when they happened to meet with a loan officer who was a Korean food connoisseur.
This spring, the brothers applied for a forgivable loan from the federal Paycheck Protection Program. They received less than half of what they asked for. Mills said that was roughly equivalent to the salaries of three part-time bartenders and a dishwasher, but not enough 'to have my chefs come back to work.'"
—
Black Political Prisoner Seeks Bail Pending Appeal After COVID-19 Infection Attack at Seattle FDC
This is a press release. I couldn't find any reported articles about Cary Lee Peterson's story after reading this, so sharing it for your information.
"According to court papers, on August 20, 2020, civil rights lobbyist Cary Lee Peterson (40) was assigned a cellmate, who arrived to FDC SeaTac infected with the coronavirus, July 17, despite that same morning, the FDC's associate warden publishing an inmate notification [letter] stating, 'SeaTac still has zero positive cases of COVID-19 for staff and inmates,' and Peterson's prisoner unit having over twenty empty cells. However, the newly arrived inmate infected with the COVID-19 virus caused the entire prison facility to invoke a '24-7 (cell confinement)' lock down for 14 days, that ended August 6."
—
Colorado, Black Retiree Among First To Participate In COVID-19 Vaccine Trial
"'Throughout history people have volunteered for various tests, and I think we need to pay it forward," said Michael Rouse of Central Park. The 65-year-old retiree is doing just that.
'The virus is here, it's not going anywhere,' Rouse told CBS4 Health Specialist Kathy Walsh. He was quick to volunteer, prompted, in part, by a call for people of color to enroll in the research.'"
—
Black Barbershops Join COVID-19 Fight
"Fred Spry has seen the difference these programs can make. He's a barber in Thomas's network who encouraged his clients to get screened for colorectal cancer.  
'Once you realize it's a major problem, you have to address it,' Spry said. 'If you don't address it, it's going to sneak up on you silently. And before you know it, it'll be too late.' He said one of his clients underwent screening and discovered he had an early-stage tumor, which his doctor removed."
—
How these health entrepreneurs continue to serve up wellness despite pandemic challenges
"With a focus on underserved communities, Premier Pharmacy has searched for ways to assist customers disproportionately impacted by Covid-19. This required him to invest additional funds for new products and services.
'[Customers] were denied testing,' said Prince. 'They felt like they weren't being heard when they went to some testing sites. We felt obligated to provide that service to our community, but that is a huge undertaking. It's 10 grand upfront just to start Covid testing.'"
—
Lisa Cooper: The silver lining of COVID-19's dark clouds (OP-ED)
"The silver lining during these dark times is that this pandemic has revealed our shared vulnerability and our interconnectedness. Many people are beginning to see that when others don't have the opportunity to be healthy, it puts all of us at risk. I am hopeful because I see the pandemic producing a shift in thinking among many as they acknowledge the disparity between the lives of white people and people of color in this country."
---
📰 LOCAL NEWS
PENNSYLVANIA—
Black Doctors COVID-19 Consortium Holds 37th Free Testing Site For Philadelphians With Coronavirus Symptoms
Independence Media Foundation's Community Voices grant elevates Black and brown voices left behind during COVID-19
NORTH CAROLINA—
Cape Fear Valley hospital in Fayetteville focuses on Black, Brown communities to help slow spread of COVID-19
COLORADO—
OREGON CARES FUND OFFERS GRANTS TO THE STATE'S BLACK COMMUNITY IMPACTED BY COVID-19
INDIANA—
OPINION: The safety of Black and Brown students at IU is threatened
MISSISSIPPI—
The Death of a Mississippi Teacher From COVID-19 Increases Fears of an Outbreak as Schools Reopen
---
🎥VIDEO NEWS
'These Intergenerational Wounds Continue': How Trauma From Hurricane Katrina and COVID-19 Are Affecting Black New Orleanians
"Dr. Shervington is based in New Orleans and works in the community to assess post-disaster mental health conditions such as depression, substance abuse, and PTSD. She's found that much of the psychological trauma residents experienced after Hurricane Katrina is happening again—this time due to the COVID-19 pandemic."
---
⚠️NOT CORONAVIRUS NEWS, BUT ALSO IMPORTANT
'This feels different': Black postal workers on the USPS' fate
"Not only has the post office 'been vital to Black community development, but Black postal worker activism changed the Post Office and its unions,' Rubio wrote. 'This is a dynamic history, one that involves narratives of migration, militancy, community, and negotiation — and all at a workplace that African Americans saw as being inclusively, not exclusively, theirs.'
A 1949 Ebony magazine article said Black postal workers had earned 'community prestige' with secure, reliable jobs that benefited their neighborhoods. Slowly, that status for the Black carrier has diminished, according to some of the postal workers who spoke to NBC News. But they maintain that their commitment persists, even during a pandemic and at a time when their health and paychecks are in jeopardy."
—
The Black American Amputation Epidemic
"Despite the great scientific strides in diabetes care, the rate of amputations across the country grew by 50% between 2009 and 2015. Diabetics undergo 130,000 amputations each year, often in low-income and underinsured neighborhoods. Black patients lose limbs at a rate triple that of others. It is the cardinal sin of the American health system in a single surgery: save on preventive care, pay big on the backend, and let the chronically sick and underprivileged feel the extreme consequences."
UPDATE: Black Diabetics Lose Limbs at Triple the Rate of Others. Here's How Health Care Leaders Are Starting to Act.
—
What Happens to Black Folks if Trump Wins Again?
"…while it may be painful for many to think about, how should Black people confront the possibility and minimize the chances of another Trump win? Across the political spectrum, the responses vary. For many, the answer is to fight to elect Joe Biden—who has struggled to connect with some young Black voters—as president. Others recommend decentering electoral politics, focusing instead on sustained efforts to defund the police and build intergroup alliances; while still others suggest leaving the United States altogether as the course to try."
—
We Need To Fund Women And Girls Of Color On The Front Lines (OP-ED)
"In Minneapolis, the site of Floyd's murder, Kandace Montgomery of Black Visions Collective is rallying their community around alternative solutions to a destructive criminal justice system. Atlanta's own Toni-Michelle Williams of Solutions Not Punishments Collaborative, is developing the leadership of transgender people of color. And in Alaska, Native Movement's Enei Begaye is tackling climate change by fending off the drilling efforts of oil companies.
Unfortunately, these organizers and advocates are receiving only a fraction of national philanthropic funding as they transform their communities. At the Ms. Foundation for Women, we've known these dynamics have existed for years, but we haven't had the hard data until now."
—
'This is the reality of Black life': Santa Clara University professor, her brother racially profiled by campus guards
"'One of the officers said to me, 'You don't own this house. This house doesn't belong to you,' said Danielle in her first television interview about the incident with ABC7 News…At one point, a guard allegedly accused Carlos had "been in the bushes" and appeared to be homeless. "'As small and petty a statement that is, it had much broader implications. He was reminding me we didn't belong here…"
—
Black News Channel's Kelly Wright Interviews President Trump
"In a surprise, President Donald Trump sat down with the Black News Channel to discuss a wide range of topics, including the 2020 election, COVID-19, and the failed stimulus negotiations…
It not only marked Trump's first time on the network but also his initial interview with any African American-owned media. The National Newspaper Publishers Association (NNPA), the trade association of 230 Black-owned newspapers and media companies that comprise the Black Press of America, has repeatedly requested interviews with the president throughout his nearly four years in office." [videos here]
—
What No One Tells Black Women About Breastfeeding
"The American Academy of Pediatrics (AAP) recommends that infants drink breast milk exclusively for the first six months of their life, citing benefits for infants including reduced risk of respiratory issues, gastrointestinal infections, sudden infant death syndrome (SIDS), allergies, and more. Recent data suggests that the breastfeeding initiation rate for Black moms is 58.1%, compared to 80.6% for the Hispanic/Latinx population and 81.5% for White moms.
And while breastfeeding won't be possible for every family, experts believe that these disparities can be largely attributed to a systemic lack of education and support rather than personal choice."
—
NBA Athletes Are Too Rich to Be Revolutionaries
"So, as disheartening as it was to hear the thud of that liberatory door closing on this opportunity, it's important to embrace the disappointment. Perhaps it can lead to a deeper revelation: Revolutionary power always finds home in the people. Not in the filthy rich; not in the celebrities and politicians propping up a violent regime. The people will have to free themselves — just as it has always been."
---
And shout out to Nieman Lab…
They tweeted about our previous "Essential & Black" interview series (and a past interview with me) to their 300K+ followers, which ultimately led to 100+ new subscribers in about two days. Thank you for the support.
Remember, every social media post, text message, email, and phone call sharing this newsletter helps raise greater awareness of what's happening in the world regarding Black folks and the coronavirus pandemic (aka life as we know it right now.)
Stay safe & take care ✊🏿💗
— Patrice Peck (tw/ig)